04.04.22
What's it like to do a student placement at Accelerate?
"I had a great time and can't believe how much I have learned in a four week period"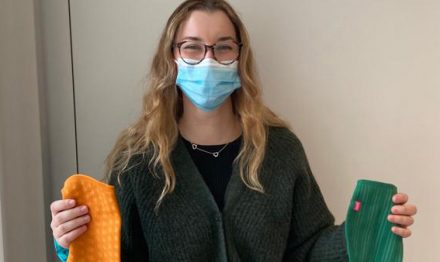 My time has flown by at Accelerate. I am honoured to be asked to write the blog and have included both my experiences as a student and the opportunities I've been able to take on.
The introduction to Accelerate
Before I started, my mentor and Lymphoedema Clinical Lead, Anna said:
If you don't come away raving about lymphoedema and wound care then I've have done something wrong!
I can confirm that's exactly how I feel. In fact, within the first week, I was telling one of my course mates that an exam question did indeed relate back to the lymphatics system.
In at the deep end
From the first week everyone knew my name – most likely because of my rather big 'Hello my name is Tilly I'm a student nurse' badge on her uniform – but I really did feel like I was part of the Accelerate team. I was taken aback by everyone's kindness and trust in me.
I was able to help remove bandages and dressings and help clean and dress wounds. I was taught how to bandage and use compression techniques which I then practiced at home mummifying my aunty and cousin in compression bandages! I was also able to try out the biomechanics system and see my own results which was very interesting.
Receiving quality education
I was given the opportunity to take part in several education courses which Accelerate run; chronic oedema, bandaging and compression and sharp debridement and all three of them were brilliant. I think the great thing about nursing is that it is a constant process of learning and progression and to be able to further that whilst on placement is a great opportunity.
I had the privilege of working in the Tower Hamlets and Hackney community as well as Romford. The reason I actually came to study nursing was due to my love for community care work and so it was really special for me to work alongside such wonderful nurses and see in-home care from another perspective.
Experiencing other aspects of nursing
I spent every Friday working with Fran, a remarkable Podiatrist, who provided an amazing insight into biomechanics and podiatry. It's fairly rare, from my experience as a student nurse so far, to get the opportunity to work alongside someone in a different healthcare role.
Final thought
You may be thinking if you've read this far that I was paid to write all this, but I can confirm this is not the case and that I have just had a great time.
I would like to finish with this wise comment from Dr Bull:
you are born a picker or a non-picker – what are you?
I'm sure you can take a wild guess as to what lymphoedema and wound care specialists are!