15.02.22
Digital Transformation
Accelerate has and continues to embrace new ways of working to create a sustainable future for healthcare.
What is Digital Transformation?
We often think it's all to do with Information Technology (IT), but IT is only a small proportion of the transformation. Digital transformation consists of 3 elements:
Process – shows how things are done
People – carry out the process
Technology – to apply in the processes

The Pandemic and Digital Acceleration
The Pandemic has been a challenging experience for many people and businesses around the world. People have had to explore new ways of working to enable life to continue, which has meant an acceleration in the use of digital tools.
Accelerate has and continues to embrace new ways of working to create a sustainable future for healthcare.
We were determined not to leave patients without the care they so desperately needed, so we thought creatively and accelerated our investment and plans for Digital Transformation.
Why are we continuing to invest in digital transformation?
There is a shortage of nurses in the healthcare system so we looked at where we can work smarter and bring in technology to perform some of the tasks that nurses do to save them time to focus on patients and more complex issues
Further investment in technology speeds up our internal processes which ultimately benefits the patient
Using digital tools helps patients better access support for the care they need more quickly and in turn helps them to stay well
We can use the data we gather for research to improve lymphoedema and wound care
Sharing our experience and best practice with digital transformation helps other providers and enables better outcomes for their patients
Our digital transformations so far…
Virtual Interpreters
We now arrange for our interpreters to join consultations virtually.
Microsoft Booking
We have a superb new booking system which allows us to book virtual appointments for patients and reduces the need for them to come into the clinic if physical treatment is not needed.
New Software
We now use Microsoft Teams for all staff events, team meetings and workshops. This has helped us to stay connected during lockdown without putting others at risk of Covid transmission. We also created an intranet which allows staff to have access to vital information instantly.
Accelerate Academy
Through our Virtual Learning Environments, we have spread our teaching reach across England and Wales, our next target is Scotland. We hope to meet lots of Scottish learners at the Society of Tissue Viability conference in Glasgow 18-19 May this year!
Social Media
We have added new Accelerate social media platforms to help us reach more people and also listen to our our patients' voices through channels they are familiar with and comfortable using.
Self-management resources
Self-management has been crucial to keeping patients well during the Pandemic and on an ongoing basis. Our website has a vast array of easily searchable information for both patients and healthcare professionals.
Culture Change
Our digital transformation is a journey that is well underway here at Accelerate but we are continuing to embrace more digital technology that has a hugely positive impact on our organisation and our patients.
In February 2022 we held an all-staff event themed 'Let's Get Digital'. It was an opportunity to explore what we have already achieved digitally, and consider what's possible in the future. Digital transformation truly is embedded in our culture.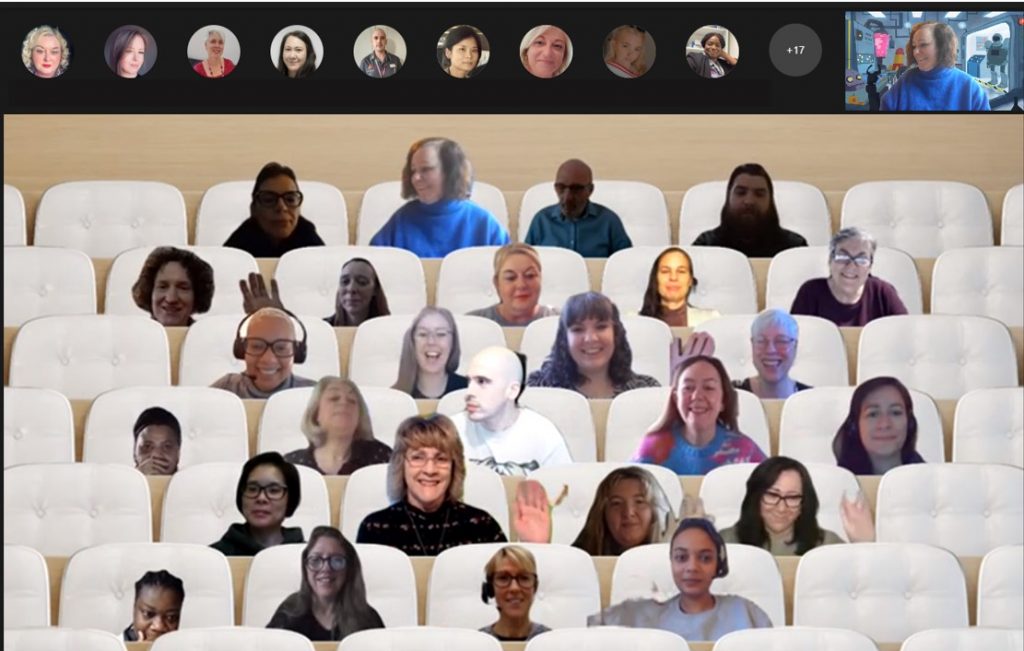 What's coming?
Patient involvements
We want to hear our patients voices. What are their frustrations and how we can tackle these? What would help them to stay well? How can we better support them? We never stop learning from our patients.
Reporting
As mentioned, our clinical data is helping with research into lymphoedema and wound care and will help shape treatment and patient care across the world.
RPA (robotic processing automation)
This is software that is going to help us streamline our internal systems. It allows the automation of simple but time-consuming tasks which will free our staff up and improve the quality of our data.
Patient Portal
We will soon be opening a patient portal enabling patients to access their records quickly and easily.