04.11.22
Accelerate Academy are launching a level 7 University qualification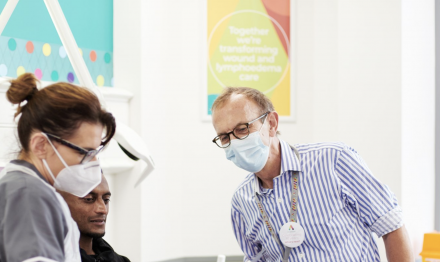 About the level 7 University qualification
Accelerate are delighted to be working in partnership with Leeds Beckett School of Health to launch a brand new level 7 university qualification. The course will cover the critical examination of the evidence base for wound management, supporting learners to apply this to clinical practice as well as the theory and practical application of sharp debridement.

The course will have a blended learning format wih live and interactive virtual sessions, self-directed study and face to face workshops.
Effective wound management is an important aspect of health and social care provision. So we are delighted to form a partnership with Accelerate Academy to ensure we can meet the learning needs of Nurses and other Healthcare practitioners in our shared goal to improve service user care and experience.
Course Director from the School of Health at Leeds Beckett University
No essays!
No essays! The assessment element of the programme is based on a critical discussion so it's ideal if you like to talk rather than putting pen to paper!
International recognised teachers
We are thrilled to have secured the following fabulous educators for the programme:
Fran Campbell, Lead in Podiatry & Biomechanics, Accelerate
Sarah Gardner, Independent Clinical Consultant, Wound Matters
Alison Hopkins MBE, Accelerate
Georgina Ritchie, Director of Education, Accelerate
Fran Worboys, Consultant Clinical Specialist
Accelerate Academy are delighted to offer this university module which will really challenge learners to develop their understanding of wound management including sharp debridement to an advanced level. We have confirmed some internationally respected speakers to teach on this module and cannot wait to get started!
Accelerate
Sign up for the course
We're starting in January 2023 for the one day a week 3 month course and spaces will be limited.