06.06.19
Why the Legs Matter Campaign Matters to Community Nursing
How much of your team's activity involves wound care? 40 or 50%? More or less? And how much of this is focussed on lower limb wound management? 70% is the likely average. So reducing this activity in any way we can, should matter.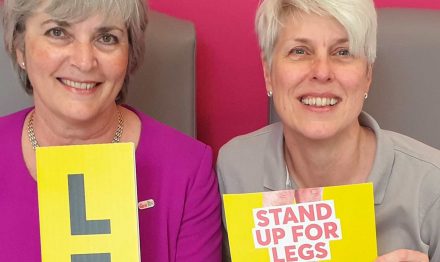 A few of us in Tower Hamlets were fortunate to have a Legs Matter Natter with Dr Crystal Oldman as part of the first Legs Matter campaign. Patient Stanley happily welcomed those involved in his care and management, especially the tissue viability nurse Shakera from Accelerate and community nurse Foluke from East London Foundation Trust. Stanley's story was that of ischaemic leg ulcers under control but not cured; he was simply glad to still have his legs and was managing incredibly well mainly due to a fantastic younger neighbour. We left, as always with a sense of privilege for being so warmly invited into someone's home.
For those involved in leg ulcer management, we are rightly worried about over-compressing the ischaemic limb. But Stanley is in a minority with his ulceration. The majority desperately need good high compression; unfortunately, the UK story is one of inadequate diagnosis and treatment with poor levels of compression therapy, despite this being essential for healing. Our legs are a problem and they need our attention, never more so with our increasing obesity and sedentary work and lifestyle.
But there is a coalition of societies and organisations that are trying to change this. The first Legs Matter campaign is running from 3rd to 7th June and hopefully there is an event in your area. Legs Matter aims to raise awareness that our legs deserve better care, either from their owners or from local services. Community services are stretched, often to breaking point; it is on these occasions that we often think we do not have time to complete the full assessment or apply compression. The truth is that not doing this will mean that the total activity associated with that patient will increase enormously, but this is often unnoticed. And what is more soul destroying to community nursing than dripping legs being managed daily, knowing that all your care and kindness will need to be repeated the next day, and the day after that? Early intervention with assessment and effective compression pays dividends to both nurses and your patient.
The QNI is committed to promoting excellent community-based care, hence why Crystal is a supporter of this new campaign. It is clear that the provision of time to care and assess can stop dripping legs fast and halt small wounds becoming life-changing, but these outcomes can also result in a drastic reduction in a nurse's workload.
So I am suggesting a Legs Matter challenge! Look at your caseload and identify any leg ulcer patient that needs daily dressings for exudate management. Ask yourself – what it would take to change this? Look at the system of care and your team's competence before you provide the stock answer that the patient is non-compliant. Change is possible, but only if we do something differently.
So make the Legs Matter campaign matter to you, your team and your patients! Because you also matter!
Source: Original article via the QNI