Advanced Practice in Lower Limb Ulceration
For Leg Ulcer Specialist Nurses and Tissue Viability Nurses with an interest in lower limb ulceration who are already competent in application of compression bandaging
Dates 

9 September 2020 or
15 December 2020 or
9 March 2021
9.30am – 4.30pm with coffee and registration from 9am
Accreditation
This course is accredited by the Royal College of Nursing (RCN) for Professional Accreditation until 17 August 2021.
Accreditation applies only to the educational content of the programme and does not apply to any product.
The RCN cannot confirm competence of any practitioner.
This programme will give the candidate 6 CPD credits.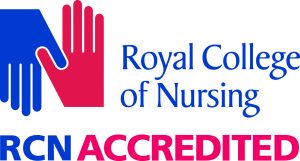 Venue
Accelerate Academy, Education Centre, St Joseph's Hospice, Mare St, Hackney, London E8 4SA
Course fees
NHS £295 (ex VAT)
Private £350 (ex VAT)
Who should attend?
Leg Ulcer Specialist Nurses and Tissue Viability Nurses with an interest in lower limb ulceration who are already competent in application of compression bandaging.
Course content
What makes a lower limb wound complex

When to use higher levels of compression than standard 40mmHg

The biomechanics of mobility and gait to enhance healing potential

Advanced bandaging skills including strapping to manage retro-malleolus ulcers

How to manage complex ulcers once healed?
Please remember
Questions?
For any queries about the training sessions please contact Karen Staines, Director of Wound Care & Education, education@acceleratecic.com
Download this page as a training flyer