Developing skills in leg ulcer management – a multi-disciplinary approach
This is a competency based five day leg ulcer training programme aimed at community nurses who manage patients with lower limb wounds and gives 30 CPD credits
Dates 

5 days – all of which must be completed
22, 23, 29, 30 Sept and 21 October, 2020 OR

2, 3, 9, 10 February and 3 March, 2021
RCN Accreditation
This course is accredited by the Royal College of Nursing (RCN) for Professional Accreditation.
Accreditation applies only to the educational content of the programme and does not apply to any product.
The RCN cannot confirm competence of any practitioner.
This programme will give the candidate 30 CPD credits.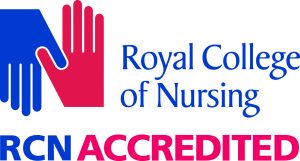 Venue
Accelerate Academy, Education Centre, St Joseph's Hospice, Mare St, Hackney, London E8 4SA
Course fees
NHS £795 (ex VAT)
Private £995 (ex VAT)
Who should attend?
Registered community nurses who manage patients with lower limb wounds.
Learning outcomes
Provide holistic assessment of patients with lower limb wounds based upon best evidence based care
Understand vascular assessment and the use of different compression modalities to enhance practical skills and patient outcomes
Become proficient in the use of doppler, enhanced compression bandaging and hosiery measuring and fitting
Please remember
Book your place via email
education@acceleratecic.com
Wear suitable clothing for practical workshops
Please bring your own lunch – there is a cafe on site
Questions?
For any queries about the training sessions please contact Karen Staines, Director of Wound Care & Education, education@acceleratecic.com
Download this page as a training flyer